Argan oil differently. Nanoil hair mask
Argan oil is proven to be the perfect cosmetic of unmatched multi-tasking powers. If you are faithful to hair masks, you can either enrich your fave hair care product with a few drops of argan oil or try out a ready-made hair mask that offers you both the well-selected ingredients and stunning effects.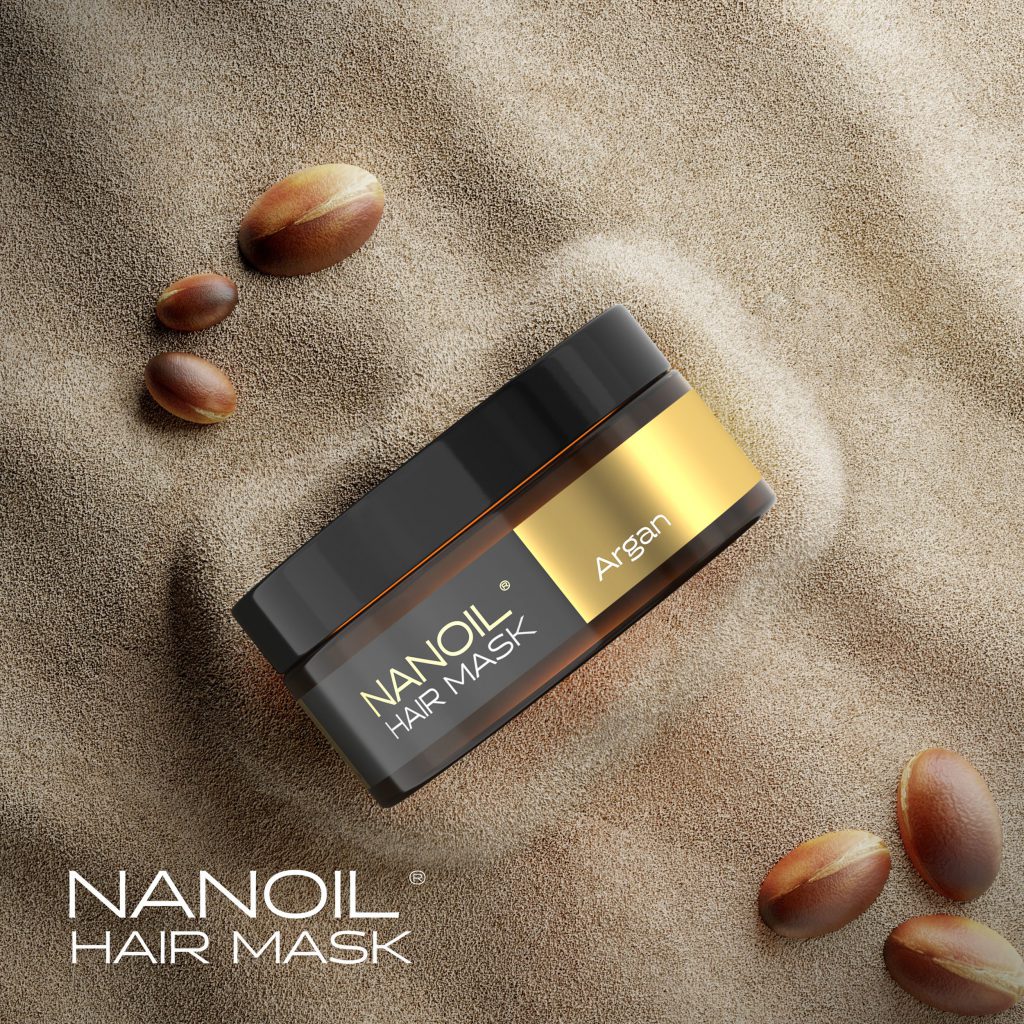 Believe it or not but there are such hair masks that have everything the strands need to grow long and strong. Also, with their help you will easily bring out and enhance the beauty of your tresses, protect them against damage and improve their looks. Go on reading to learn what a hair mask formulated with 100% organic, unrefined and cold-pressed argan oil can give you.
Argan oil incorporated into a hair mask? Only with Nanoil!
Nanoil knows how to make use argan oil's potential. Even if you are short of time and can't spare an hour or two on hair oil treatment, you can still enjoy the benefits of the purest and genuine argan oil. You just need to once a week reach for Nanoil hair mask. You will be surprised that only 15 minutes are enough to get beautiful, healthy and neat hair. How is it possible? Nanoil hair mask owes its powers to the perfect ratio of argan oil and panthenol.
This hair mask was brought to existence to gift the hair with maximum support and the highest-level care. Just one use of Nanoil Argan Hair Mask makes the tresses look incredibly good. With every another use the tresses are getting stronger and healthier to eventually become fully reconstructed within just a few weeks.
What is Nanoil Argan Hair Mask formulated with?
As mentioned earlier, Nanoil Argan Hair Mask contains the highest quality argan oil and panthenol. Are you curious how will these ingredients affect your hair?
Moroccan Argan Oil – not without a reason this is a world-recognized natural oil. It's known for being made of precious fatty acids, flavonoids and plant sterols that are responsible for rejuvenating and regenerating hair and skin. Apart from this, organic argan oil offers over 100 active substances that are crucial for hair, skin and fingernails to remain beautiful and strong. On the top of that, argan oil also brims with vitamin E, and therefore it has the anti-ageing effect and is able to fight back free radicals.
Panthenol – helps hair to repair itself faster. Thereby the tresses become lustrous, smooth (it closes risen hair cuticles) and soft to the touch. Additionally, panthenol promotes keratin synthesis, therefore it so visibly and measurably improves the hair by making it strong. Over time the hair becomes damage-resistant.
Nanoil hair mask with argan oil: The benefits
Strong and healthy, glossy and bouncy hair that are silky smooth and shines with every head move. Nanoil hair mask offers a genuine argan oil that stands out in terms of its quality. First, it originates from Moroccan terrains recognized by UNESCO as one of the most beautiful natural reservations on the world. Secondly, the extraction technique also matters since the oil was cold-pressed and didn't undergo any refining process. This means that it preserves all the precious substances to get you fabulous-looking hair.
This is how argan oil incorporated into Nanoil hair mask makes sure that your hair is strong and healthy. Panthenol improves the look of hair and argan oil makes the tresses nourished. The result? Perfectly looking hair. Nanoil is a faultless hair mask that wins only favorable reviews. Finally, you can expose your strands to the professional treatment at home.
Do you need more information concerning Nanoil Argan Hair Mask? Would you like to give it a go? Enter: nanoil.co.uk/argan-hair-mask