How to nurture hair with argan oil?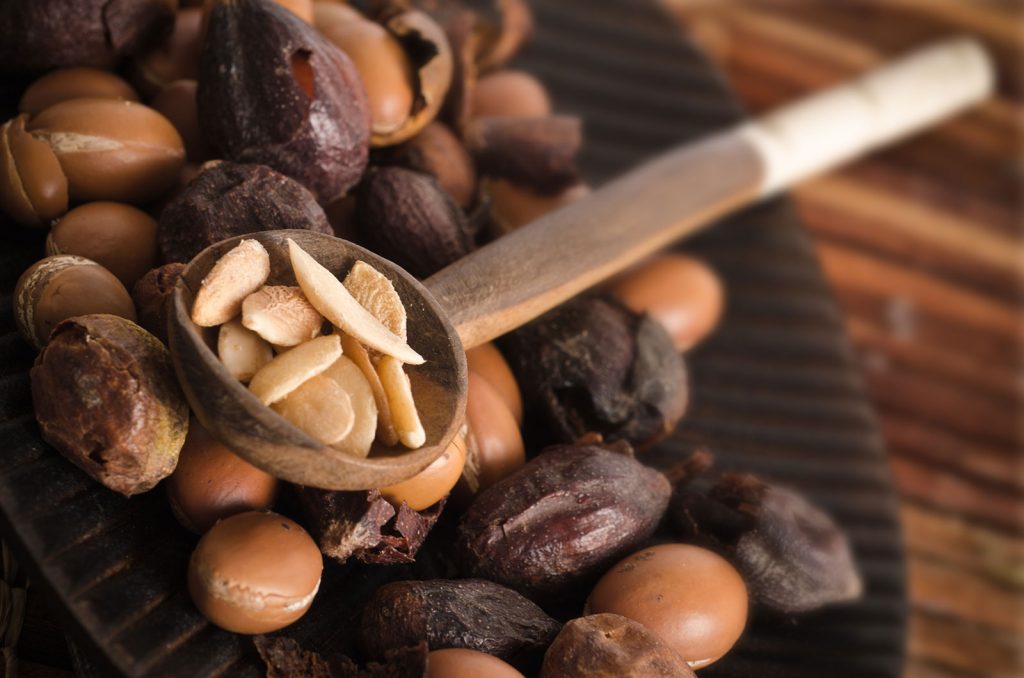 Argan oil is very often used in hair and body care. Why? It is considered to have the best antioxidant and conditioning properties. Check out what effects you will get after a regular use of this precious cosmetic. Additionally, learn how to properly use it.
Argan oil for splitting ends.
Colour-treating, straightening, blow-drying or even wearing a hat can contribute to splitting ends. Do you know that hiding hair under your scarf, jacket or sweater can also worsen its condition? If you want your hair to always be well-maintained, regenerated, use argan oil regularly. This cosmetic will rebuild damaged structure of the wisps, deeply moisturise and nourish. It makes hair stronger and healthier. Apply argan oil on your entire hair or just the ends once a week before washing. What is more, you can also use it before blow-drying, combing or styling to protect the ends.
Argan oil provides lustre.
No other oil provides such beautiful shine like argan oil. Unfortunately, natural gloss is often weakened by frequent colour-treating, using cosmetics with the content of drying ingredients, lack of vitamins and minerals. Regular use of argan oil will restore its lustre and enhance the colour. Apply the product on your wisps and scalp for about an hour before washing. Make sure to use a gentle shampoo; leave it to air-dry.
Argan oil helpful in styling.
Not only hair conditioner will regenerate and moisturise hair. Argan oil helps to style your strands, maintains curls, tames unruly wisps, facilitates combing and speeds up drying. If you want to style your hair without any troubles, add a few drops of argan oil to your shampoo, mask or conditioner. The cosmetic will smooth the surface of hair, prevent frizz and static. Before you start creating your favourite hairdo, blow-drying or just combing, apply a small amount of oil. Thanks to it, hot air generated by blow-dryer ot sharp edges od the comb or brush will not cause any harm to your wisps. Additionally, argan oil is a perfect replacement for chemical products preserving hairstyles.
Argan oil regenerates damaged hair.
Environmental pollution, UV radiation, frequent colouring, straightening or drying. Such factors are responsible for causing damage to your hair. Fortunately, there is a way to solve this problem. All you need is argan oil that will perfectly moisturise and regenerate your wisps. Additionally, the cosmetic provides thermal protection, smooths and lustres. Revives split ends, provides strands with resilience and strengthens hair bulbs.
Argan oil helps fighting dandruff. 
Rubbing argan oil into your scalp will easily deal with dandruff and other skin diseases. However, remember that only regular use will bring tremendous effects. Argan oil provides scalp with deep hydration and a, overall protection against harmful external factors. Simply apply a small amount of the cosmetic in the roots of your hair and perform a few minute massage. Next, wrap your strands in a heated towel. Repeat the treatment every couple of days and soon, you will be able to say goodbye to dandruff for good.